Now also Planet X 105 available in small size. Detail below is for the Ribble…..
This is a full triathlon and time trail machine to get you tucked into that aerodynamic position. At the heart of the Aero TT is a distinctively styled carbon monocoque frame emblazoned with the Ribble name in huge lettering. The wide weave carbon, bulging rounded design and glossy finish result in a very flashy looking machine. The groupset is from Shimano, the majority of bits coming from the second tier in the range – Ultegra – with brake levers and bar-end shifters from the premium range Dura Ace. Top-notch SLR Carbon Cosmic wheels from Mavic are great all-rounders for a variety of courses and conditions coupled with simple Deda alloy bars, stem and extensions. The Ribble is pretty light for a TT bike – one of the advantages of the monocoque frame design. It also feels very stiff, which is great for power transfer built with speed in mind. The frame geometry is quite aggressive, too. A steep seat angle does help you get into the aero position and coupled with a relatively low front end. The Mavics are a welcome addition to the machine and are a very capable all-round wheelset. They have aluminium braking surfaces for great stopping power, are aero enough to be fast at high speed and relatively light and stiff for climbing.
Frame: Ribble Aero TT Carbon Monocoque
Forks: Ribble Aero TT Carbon Monocoque
Groupset: Ultegra 10 spd Double; Dura Ace 7900 bar-end and TT brake levers
Wheels: Mavic Cosmic Carbone SLR
Cockpit: Deda Crononero bars; Deda Quattro stem; Deda Parabolica Due extensions
Seating: Selle Italia SLR T1 TT
Weight: 18.08 Llbs (8.2 kgs) without pedals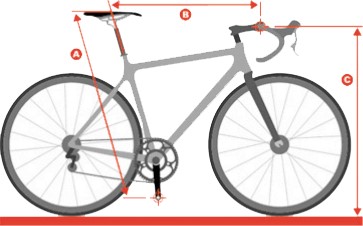 You can provide customised measurements for your bike by submitting the correct size for the 3 measurements in the image shown.
Use the contact form HERE to submit the 3 sizes by selecting the provide measurements option in the reason for getting in touch drop down of the contact form and remember to include your reservation number!