Road cycling or mountain biking Cyprus is THE destination of choice
In the past few years Cyprus has expanded as a destination for cycling enthusiasts both as a place to enjoy the sport and a method to explore the island. Check out Nireas below for their excellent marshalled events. The island has excellent weather for cycling, particularly in the months between October and May, when temperatures range between 15°C and 25°C, while rainfall is also very low compared to other European countries. And unlike other Mediterranean countries the strong headwinds that are a headache for cyclists, here are very rare.
What makes Cyprus stands out for cyclists is its compactness. There are so many ideal features condensed into a small island. Cyprus has attractive beaches, pine-clad peaks, busy modern Europeanised towns, tranquil old stone villages, vineyards, olive groves and ancient ruins. The short distances involved give way to changes of terrain coupled with a variety of different road surfaces.
Particularly for the mountain biker within the space of 10 km you can go from rocky to clay, and steep to flat, enabling you to experience all surfaces within a short time, and making the island into one huge mountain bike arena. Bikers can hone their skills on the unique trails of the mountains of Troodos, Machairas or Akamas regions, riding steep slopes that have been ridden and tested by many. Quiet roads add to the attraction.
Cyprus is of course a renowned tourist destination and so benefits from a strong tourist infrastructure, a wide range of accommodation, excellent road network and first-class services. Visiting the island during the winter months is attractive as you can benefit from lower off-season prices for your accommodation choices.
Cypriots are friendly people and cyclists can be assured of a warm welcome both in town and  in the more remote villages and countryside, where modern life has yet to spoil their traditions. English is widely spoken throughout the island so asking for directions should never be a problem.
In recent years many top cycling teams have chosen Cyprus for their winter training. Good weather gives good opportunities for training on the road bike and for the mountain bikes too. There is far less traffic and the people are always friendly.
The Cyprus Cycling Federation is a member of the International Cycling Union (UCI) and has been organizing road races for several years. The island hosts many annual mountain bike and road cycling events and races for sportive, amateurs and professional riders. Triathlon events are of course also popular.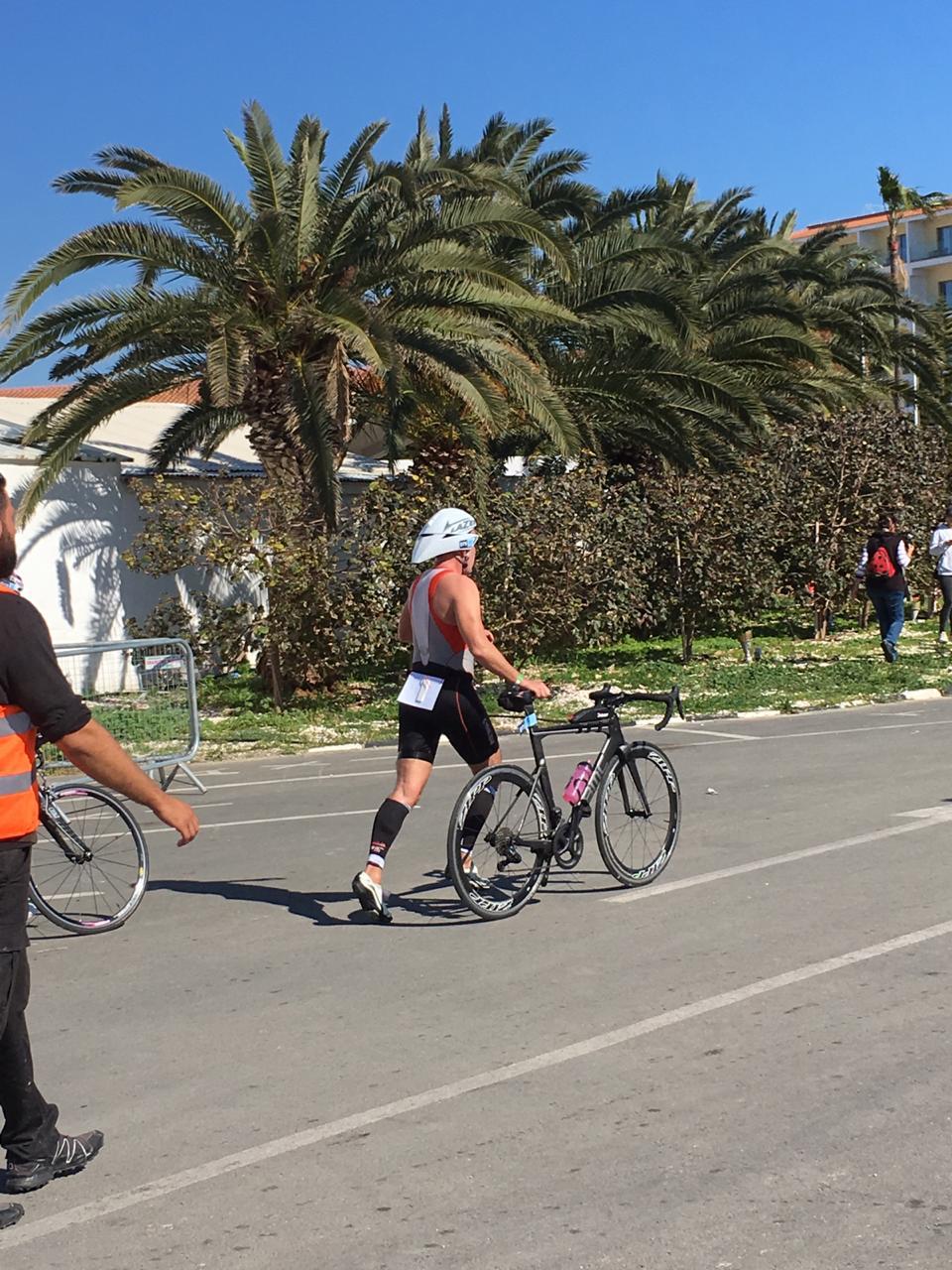 Second place achieved at Ayia Napa Triathlon 2019 hosted by Nireas Triathlon using the BMC Timemachine TMR01 Di2 from Larnaca Pro Cycle. Congratulations Alex on this Senior category achievement.